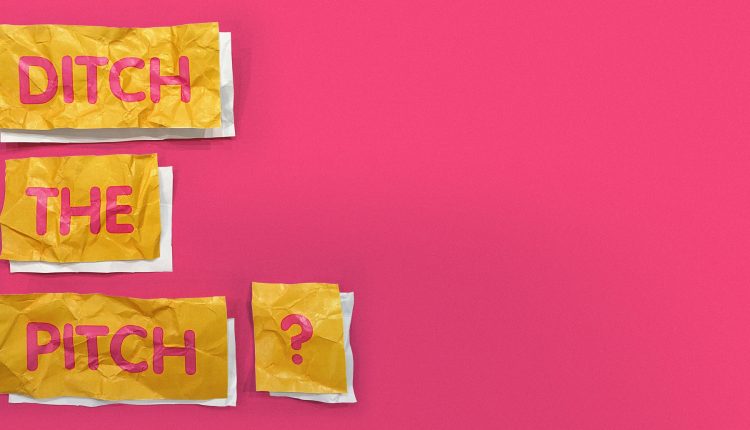 Do clients win with agencies pitching?
The process of pitching is the practice of selecting a set number of similar suppliers and asking them to submit a sample of their work, based on a shared brief, for the chance of becoming their sole service provider for a set period. In Iran though, we like to do things a little differently. Recent experience has shown me that Iranian advertising agencies are perpetually pitching, and sometimes for clients, they already provide for. Although I can empathise with clients when I hear of reservations they have about receiving adequate levels of service from their current agencies, are they ultimately winning by perpetually pitching in an attempt to contend this?
The perpetual-project-pitch problem
Having won and lost pitches in Iran during my 12-years' experience in the market, as well as in agencies both in London and the UAE, I've had the opportunity to involve myself in a wide variety of them. Although the process is an investment on both side, agencies obviously invest a significant amount more — doing so for the potential of large rewards and of course the glory. In Iran though, things are different. Agencies here are increasingly competing for short-term projects and not long-term contracts, thus competing for smaller rewards. Smaller rewards can invite smaller investment agency-side, which can lead to larger dissatisfaction client-side. I feel that this perpetual-project-pitch-process is counter-productive, fuelling further concern for clients and increasing the likelihood that they'll run pitches furthermore for further more projects. The resulting relationship breakdown becomes like a self-fulfilling prophecy — the clients' reservations are realised, and all parties lose.
The challenge of challenges
Although it could be said that Iranian advertising agencies have less competency compared to their international peers, I'd respectfully argue that the same can be said for Iranian clients. Local offices of larger multinational clients may express reservations about supplier quality due to exposure gained via their international networks, but local agencies can equally express reservations about local management quality — certainly concerning briefing. I firmly believe that it's the agency's responsibility to work with the client to establish a good brief, but when pitching, clients in Iran are likely to singlehandedly write briefs, leaving companies in a difficult position when providing solutions. In such cases, agencies are left with a few options: to challenge the brief and potentially the pitch itself; to risk providing solutions that they feel truly answer challenges not outlined in brief; or to politely walk away from the pitch. In an eagerness to work with high-profile clients, I've noticed that agencies proceed without truly challenging pitch briefs — sometimes bringing up more questions than answers. This has resulted in clients discovering their true communications objectives and putting them in a position of having to reassess their marketing plans — leading to a re-brief at best. In such cases, an agency may have won the pitch, but has lost a project in the process, and potentially any profit with it.
The pay-to-play proposal
One way in which the risk/reward conundrum can be reduced is by financially compensating pitch entrants, irrespective of the pitch's outcome. This method seemingly goes in and out of style on the international scene. Either through goodwill or as the result of collective bargaining, clients do — at times — offer a token entry payment to all pitch entrants — even in Iran. I remember another example of how we like to do things very differently here. My first ever pitch in Iran — a pitch for a long-term contract with a large multinational — was one where the entrants were not only requested to pay a large deposit to compete but also expected to produce final executions such as television adverts.
The way to be pitch perfect
To help effectiveness, the UK's Institute of Practitioners in Advertising (IPA) has established a website, 'The Good Pitch', which aims to help guide clients and agencies alike by suggesting best practices in the form of 6 principles. In 'Principle 2. Respect', the site suggests that clients, "consider paying a fee to an agency as a sign of good intent". Just recently, we at DYMO made a similar suggestion before entering a pitch — doing so with the knowledge that the client, like many in Iran, does not have a definitive long-term marketing plan and cannot, therefore, prove rewards for the risks. Although this suggestion and the suggestion that all entrants should know who they were competing against ('Principle 1. Transparency') were not met, I feel that the conversation was an important one to be had for future benefit.
The time for transparency
Concerning 'Principle 2.', if clients are transparent with all entrants as to who they are competing against, those agencies are afforded the opportunity to collectively bargain. In such a situation, selected agencies could collaborate on defining a solid brief or even requesting a token payment. Regardless of whether local agencies could effectively collaborate in for such outcomes, I feel that inviting demands can overly politicise matters and would not be in the spirit of business. I do however feel that another way is possible, that transparency can come with the writing of articles such as this one — an article that I hope, with your feedback, can truly help increase the effectiveness of clients and their respective advertising agencies in Iran.
The win-win-win
I'd like to conclude by making it clear that I'm not opposed to pitching — I just believe that pitching should be a winning process for the industry. I invite you to be part of a productive conversation by suggesting your solutions — solutions that can make us in Iran different, but in a better way.