40th Anniversary of the Carpet Museum of Iran
Iran's Carpet Museum of Iran will celebrate its 40th anniversary on February 14 (5-7PM) with a special collection of Safavid era rugs. The exhibition will be held for one month.
Founded in 1976, the carpet museum houses some of the most expensive Persian rugs dating back to the 16th century. Contained in a dedicated building of 3,400 square metres and holding the world's only Persian carpet book library the site is a wonderful day out for all.
The exterior of the building was designed by a famous Iranian architect of the era with the building's perforated structure reminiscent of a carpet maker's loom. The building is well ahead of its time having an exterior structure which keeps the building cool through the summer hot temperatures.
This is a wonderful museum with absolutely exquisite carpets. I am not necessarily interested in carpets, per se, but the detail in these was amazing. I highly recommend a visit!
The Carpet Museum of Iran holds the largest treasure of priceless carpets the world over, especially with catalogues and descriptions in Persian and English explaining each artefact.
Back to the special 40th anniversary, special programmes have been scheduled for the month-long exhibition with more than 40 Safavid carpets on the show, including Kilims, Yazd-made Ziloos and other exquisite silk rugs in the main salon.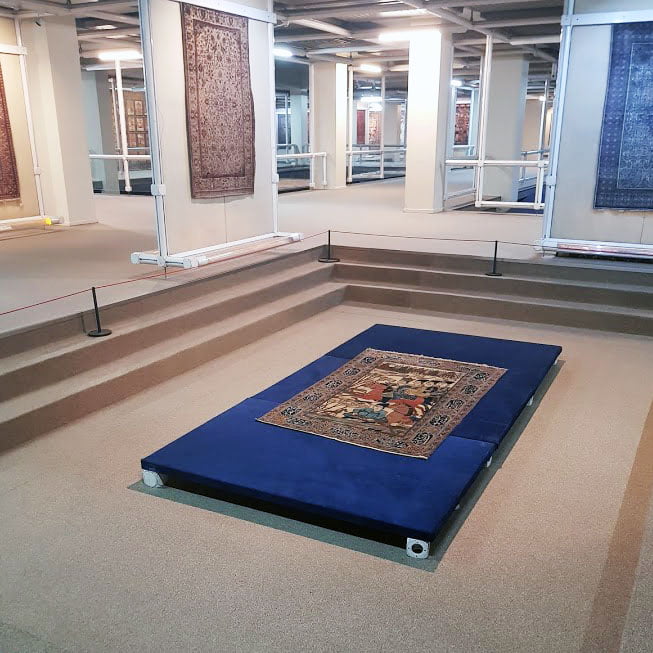 The special exhibit is a culmination show by the Carpet Museum Management with additional showpieces gifted by the National Museum of Iran.
The Carpet Museum of Iran is located at the Northwest edge of Park Laleh on the intersection of Dr Fatemi and Kargar Streets.
The special opening event will be held at the centre from 5-7PM, according to the Museum's website.
If you like this exhibition and have some more time to spend, then why not head further down Kargar St to the Museum of Contemporary Art (TMOCA) which is currently showing an exhibition by Ali Akbar Sadeghi, one of Iran's best contemporary artists of the 20th century. That groovy exhibition will be on until April 14
Location of Carpet Museum of Iran