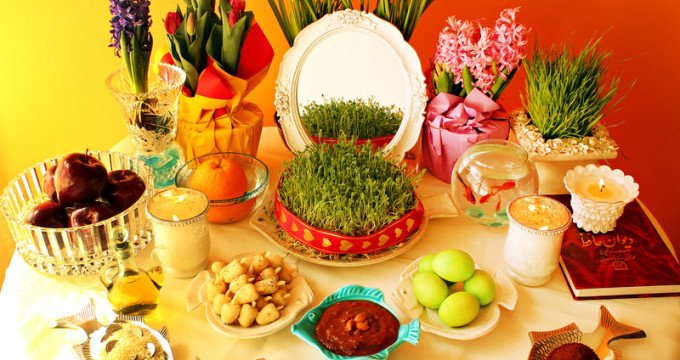 Nowruz Charity Bazaar in Tehran this weekend (Thur-Fri)
A charity bazaar celebrating the Persian New Year Nowruz will be held on Thursday, March 1 – 2 at the Ghods Cultural Complex, according to the newsletter by Nikan Charity.
Nowruz is the traditional Iranian festival of spring, which starts at the exact moment of the vernal equinox, commencing the start of the spring. It is considered as the start of the New Year among Iranians along with some other ethnolinguistic groups. The name comes from Avestan meaning "new day/daylight". Read on to get the who, what and where of Nowruz.
It has been celebrated for over 3,000 years in Iran (Persia), Central Asia, the Caucasus, Western Asia, the Black Sea Basin, and the Balkans. It marks the first day of the first month (Farvardin) in the Iranian calendar.
One thing that sets Iran apart from other Middle Eastern countries is this Persian identity, preserved in traditions, language and "Nowruz" [Persian New Year], their most important holiday.
Nowruz is the day of the vernal equinox and marks the beginning of spring in the Northern Hemisphere. It usually occurs on March 21 or the previous/following day, depending on where it is observed. The moment the sun crosses the celestial equator and equalises night and day is calculated exactly every year, and families gather together to celebrate the rituals.

The event will be held from 9 AM to 9 PM over the two days with food trucks available outside the venue.
The event is being sponsored by Mihan, Istak, Mammut and Roti Indian Street Food Restaurant, as well as several other local companies.
Why not come and support the excellent work of Nikan's Nowruz Charity Bazaar and purchase some goodies for the upcoming Nowruz celebrations!
The Nikan Charity Foundation was officially established in 2010, although its work began long before. The foundation supports charitable initiatives in Iran, including education and assisting in the welfare or giving away necessities pack to people who are unable to work themselves, or who have social and economic problems. Our goal is to help the needy rise to a better quality of life and give them more independence to live without the help of others.
Where to find the event?