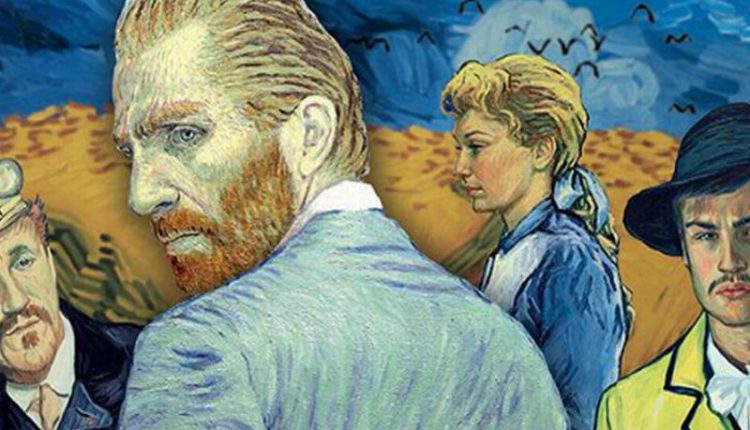 English language movies in Tehran (March 3 onward)
Pardis Cinema Gholhak prides itself in being one of the few cinemas in the city showing English language movies. So, why not support the local cinema and buy a couple tickets and some popcorn!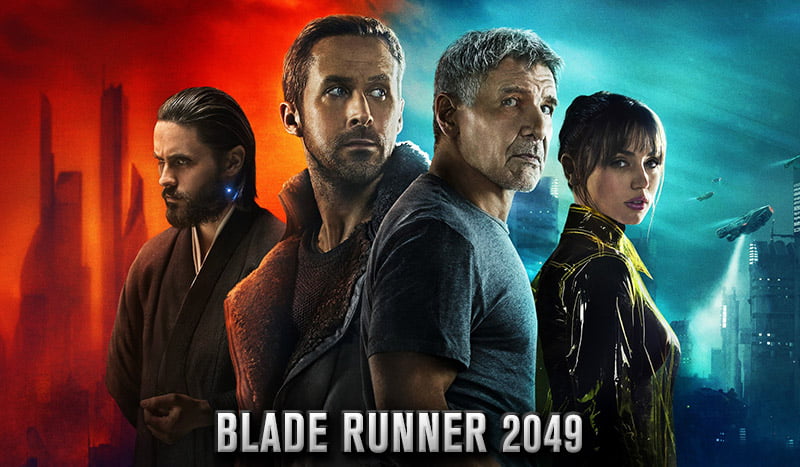 Blade Runner 2049
March 3
19:00
Blade Runner 2049 is a 2017 American science fiction film directed by Denis Villeneuve and written by Hampton Fancher and Michael Green. A sequel to the 1982 film Blade Runner, the film stars Ryan Gosling and Harrison Ford, with Ana de Armas, Sylvia Hoeks, Robin Wright, Mackenzie Davis, Carla Juri, Lennie James, Dave Bautista, and Jared Leto in supporting roles. Edward James Olmos also appears briefly in his role from the original film. Set thirty years after the first film, Gosling plays K, a blade runner who uncovers a secret that threatens to instigate a war between humans and replicants.
Principal photography took place between July and November 2016, mainly in Budapest, Hungary. Blade Runner 2049 premiered in Los Angeles on October 3, 2017 and was released in the United States in 2D, 3D and IMAX on October 6, 2017. The film was praised by critics for its performances, direction, cinematography, musical score, production design, and faithfulness to the original film. Despite positive reviews, the film was a box office disappointment, grossing just $92 million in North America and $259 million worldwide.
The Glass Castle
March 3
22:00
The Glass Castle is a 2017 American biographical drama film directed by Destin Daniel Cretton and written by Cretton, Andrew Lanham, and Marti Noxon, based on Jeannette Walls's 2005 memoir of the same name. Depicting Walls's real-life childhood spent squatting in homes and living in poverty, the film stars Brie Larson as Walls with Naomi Watts, Woody Harrelson, Max Greenfield, and Sarah Snook in supporting roles. The film was released on August 11, 2017, by Lionsgate and received mixed reviews from critics, who praised the performances of its cast (particularly Larson and Harrelson) but criticized the mishandled tones and material.
Darkest Hour
March 4
19:00
Darkest Hour is a 2017 British war drama film directed by Joe Wright and written by Anthony McCarten. It stars Gary Oldman as Winston Churchill, and is an account of his early days as Prime Minister, as Nazi Germany swept across Western Europe, threatening to defeat the United Kingdom during World War II, leading to friction at the highest levels of government between those who would make a peace treaty with Hitler and Churchill who refused. The film also stars Kristin Scott Thomas, Lily James, Ben Mendelsohn, Stephen Dillane, and Ronald Pickup.
The film had its world premiere at the Telluride Film Festival on 1 September 2017, and also screened at the Toronto International Film Festival. It began a limited release in the United States on 22 November 2017, followed by general release on 22 December, and was released on 12 January 2018 in the United Kingdom. The film has grossed $135 million worldwide and was well received by critics.
Loving Vincent
March 5
19:00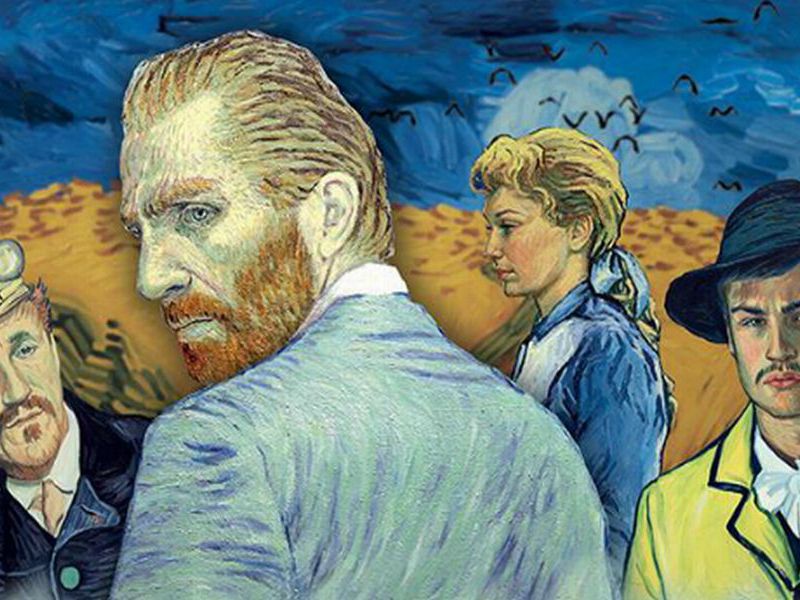 Loving Vincent is a 2017 animated biographical drama film about the life of painter Vincent van Gogh, and in particular, the circumstances of his death. It is the first fully painted animated feature film. The film, written and directed by Dorota Kobiela and Hugh Welchman, is a Polish production, funded by the Polish Film Institute, and partially through a Kickstarter campaign.
First conceived as a 7-minute short movie in 2008, Loving Vincent was idealized by Dorota Kobiela, a painter herself, after studying the techniques and the artist's story through his letters.
Each of the film's 65,000 frames is an oil painting on canvas, using the same technique as Van Gogh, created by a team of 125 painters. The film premiered at the 2017 Annecy International Animated Film Festival. It won Best Animated Feature Film Award at the 30th European Film Awards in Berlin and was nominated for Best Animated Feature at the 90th Academy Awards.
Coco
March 6
19:00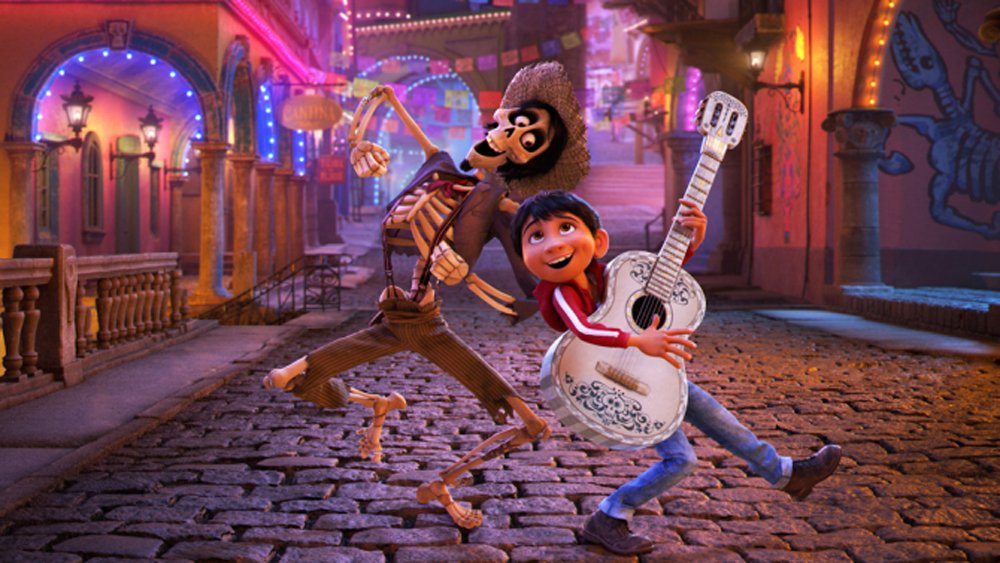 Coco is a 2017 American 3D computer-animated fantasy adventure film produced by Pixar Animation Studios and released by Walt Disney Pictures. Based on an original idea by Lee Unkrich, it is directed by Unkrich and co-directed by Adrian Molina. The story follows a 12-year-old boy named Miguel Rivera who is accidentally transported to the land of the dead, where he seeks the help of his deceased musician great-great-grandfather to return him to his family among the living.
The concept of the film is based on the Mexican holiday of the Day of the Dead. The film was scripted by Molina and Matthew Aldrich from a story by Unkrich, Jason Katz, Aldrich and Molina. Pixar began developing the animation in 2016; Unkrich and some of the film's crew visited Mexico for inspiration. Composer Michael Giacchino, who had worked on prior Pixar animated features, composed the score. The film's voice cast stars Anthony Gonzalez, Gael García Bernal, Benjamin Bratt, Alanna Ubach, Renée Victor, Ana Ofelia Murguía, and Edward James Olmos. It is the first-ever film with a nine-figure budget to feature an all-Latino cast, with a cost of $175–200 million.
March 8
Three Billboards Outside Ebbing, Missouri
19:00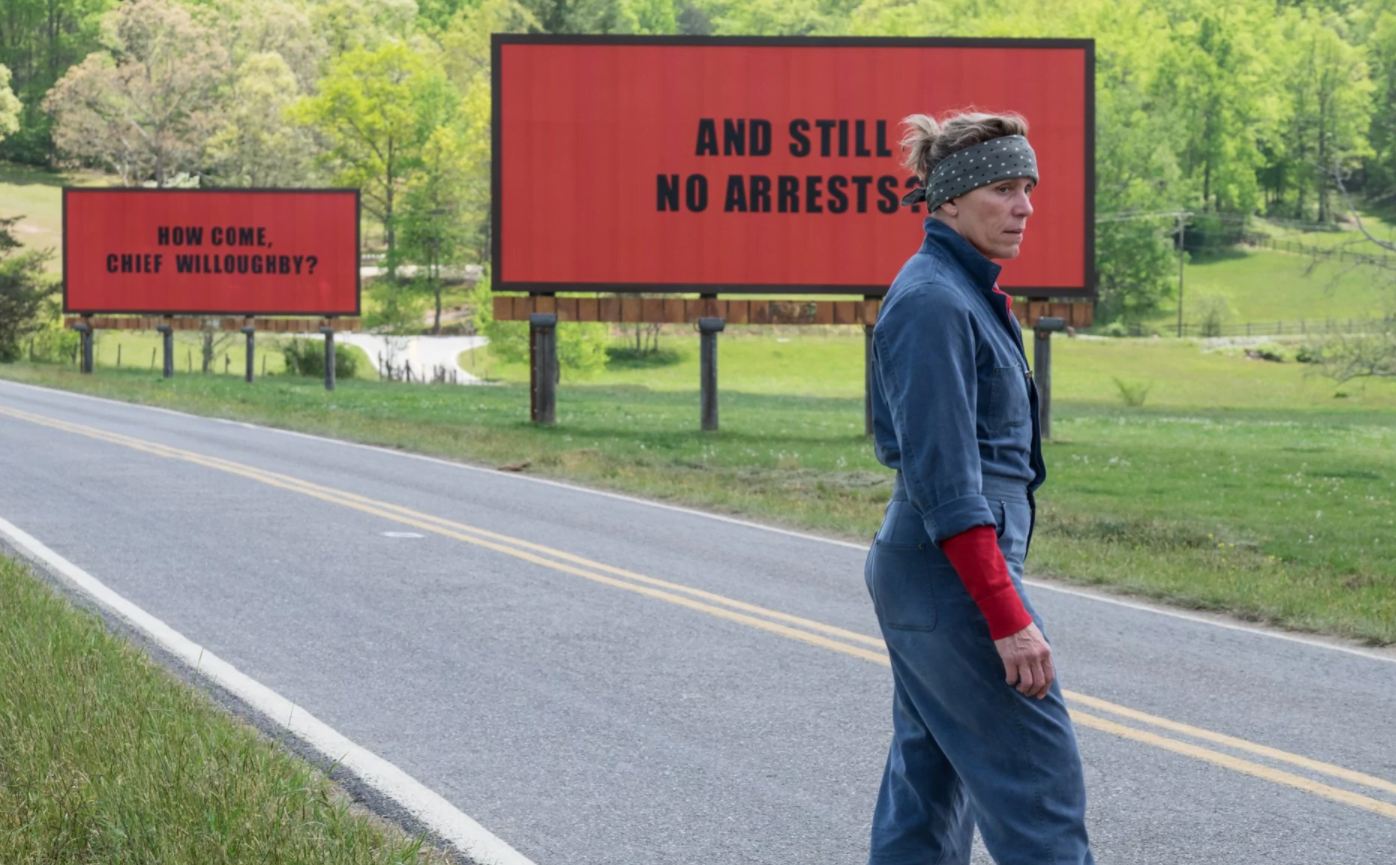 Three Billboards Outside Ebbing, Missouri is a 2017 drama film written, produced, and directed by Martin McDonagh. It stars Frances McDormand as a mother who rents three billboards to call attention to her daughter's unsolved murder. Woody Harrelson and Sam Rockwell appear in supporting roles.
The film was released in the United States on November 10, 2017, and in the United Kingdom on January 12, 2018, by Fox Searchlight Pictures; it has grossed $114 million worldwide. It has received critical acclaim, with specific praise given for McDonagh's screenplay and direction, and the performances of McDormand, Harrelson, and Rockwell.
The film received seven nominations for the 90th Academy Awards, including Best Picture; Best Original Screenplay; Best Actress (for McDormand), and Best Supporting Actor (for Harrelson and Rockwell). The film has won numerous awards, including Best Motion Picture – Drama; Best Actress – Drama (McDormand); Best Supporting Actor (Rockwell), and Best Screenplay at the 75th Golden Globe Awards, three of the 24th Screen Actors Guild Awards—including Outstanding Performance by a Cast in a Motion Picture—and five of the 71st British Academy Film Awards, including Best Film.
March 9
Murder on the Orient Express
19:00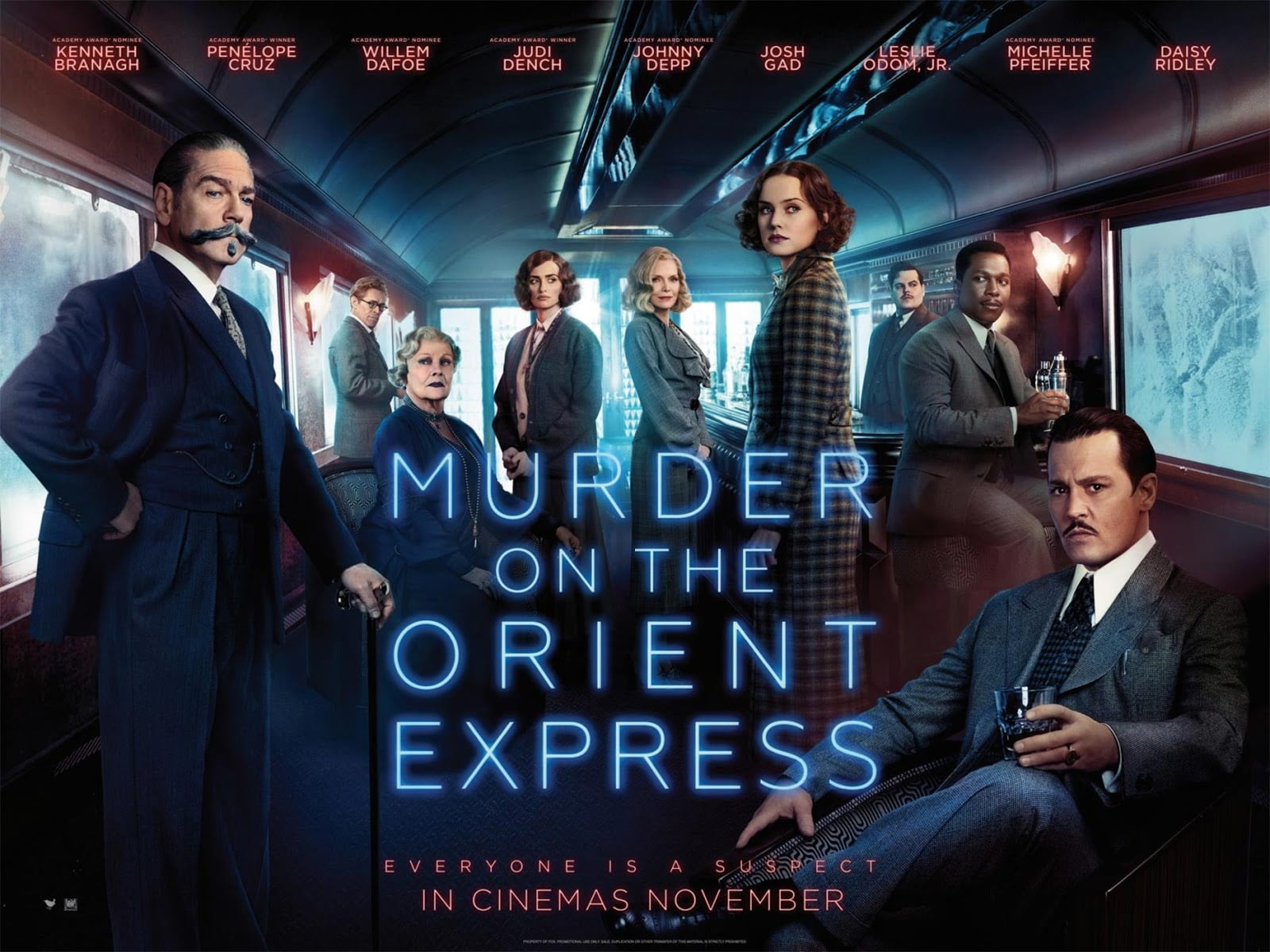 Murder on the Orient Express is a 2017 mystery drama film directed by Kenneth Branagh with a screenplay by Michael Green, based on the 1934 novel of the same name by Agatha Christie. The scene of the Bay of Jerusalem was shot in Malta. The film stars Branagh as Hercule Poirot, with Penélope Cruz, Willem Dafoe, Judi Dench, Johnny Depp, Josh Gad, Derek Jacobi, Leslie Odom Jr., Michelle Pfeiffer, and Daisy Ridley in supporting roles. The film is the fourth screen adaptation of Christie's novel, following the 1974 film, a 2001 TV film version, and a 2010 episode of the television series Agatha Christie's Poirot. The plot follows Poirot, a world-renowned detective, as he seeks to solve a murder on the famous trans-European train in the 1930s.
Principal photography began in November 2016 in the United Kingdom; it is one of the few productions in recent decades to have used 65mm film cameras. Murder on the Orient Express had its world premiere on November 2, 2017, at Royal Albert Hall in London, and was released in theatres in the United Kingdom on November 3, 2017, and in the United States on November 10, 2017, by 20th Century Fox. The film has grossed over $350 million worldwide and received mixed reviews from critics, with praise for the cast's performances and the production value, but some criticism for not adding anything new to previous adaptations and for Branagh's directorial focus on his own role to the detriment of the drama.
Where to find the cinema?