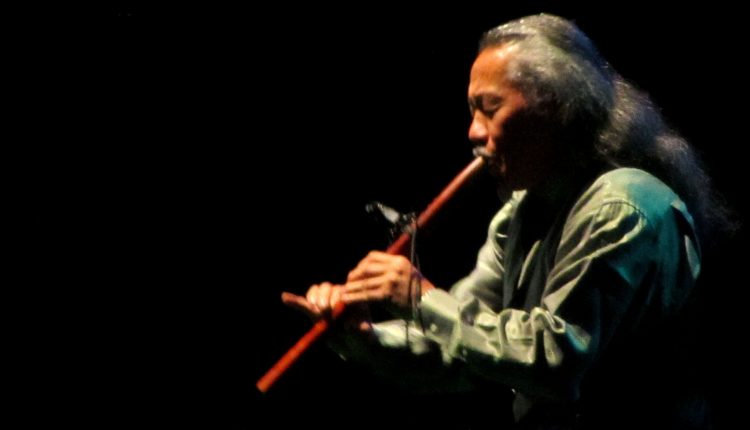 CC: Yamaha5
Japanese composer Kitaro to perform in Tehran
テヘランの日本の音楽 - Japanese Music in Tehran
Japanese composer/musician Masanori Takahashi, known by his performing name Kitaro will play on May 6-8 at Tehran's Interior Ministry Hall as part of a series celebrating world music.
Kitarō (喜多郎), born Masanori Takahashi (高橋 正則) (February 4, 1953), is a Japanese recording artist, composer, record producer and arranger noted for his electronic-instrumental music, and is often associated and regarded as one of the most prominent musical acts of New-age music.
The artist is famous for works including the famed Silk Road: The Rise and Fall of Civilisations where the musician made the soundtrack for the series documenting influence on the trading route on Japan's relations and culture.
Tickets for the event are available through local online ticketing agency Tiwall.com, with prices ranging from IRR2mn to 4mn, according to that site.
Kitaro is a regular to Tehran, performing previous in 2014 with a local orchestra as part of a project supported by the Japanese Foreign Ministry.
Touring and other activities
In 2007 to 2009, he launched the "Love and Peace World Tour," an international tour with which Kitaro hoped to inspire his message of world peace with his music. Kitaro toured Southeast Asia in 2007, Greece in 2008 and Hong Kong, Japan, Southeast Asia in 2009. During his visit to Greece, Kitaro met Greek composer Vangelis, and exchanged musical experience and creative ideas.
In 2010, Kitaro performed in Singapore in March, in Mexico for the Zacatecas Cultural Festival in April,in Xi'an, China for the opening event of Daming Palace National Heritage Park in September, in Aichi, Japan, for the Thousand Drums Event at COP10 for the Convention on Biological Diversity in October. From March to April, 2011, Kitaro was on tour titled The Silk Road – East & West, visiting Thailand, Hong Kong, Indonesia, Singapore and Malaysia. He donated part of the CD sales and concert profits to Tōhoku earthquake and tsunami Relief.
Interested in movies? Check out the latest screenings of English language movies in Tehran.