Tehran Metro Ticket Prices for 1397
Tehran Urban and Surbuban Railway Co., the suburban underground and overground rail company has announced their latest prices including the very low price of getting to Imam Khomeini Airport City (IKAC) for less than the price of a cappuccino.
Check out the updated pricing for the current year!
One way tickets
10,000 Rials for trips inside Tehran
10,000 Rials for trips in Tehran suburbs
75,000 Rials for trips to IKIA (international airport)
Renewable Charge Cards
This type of pre-paid tickets are based on mileage and its credit will be reduced as per each trip.
0-3 Kilometer 3,365 Rials
3-6 Kilometer 4,455
6-9 Kilometer 5,355
9-12 Kilometer 6,255
12-16 Kilometer 6,955
16-20 Kilometer 7,535
20-24 Kilometer 7,945
24-28 Kilometer 8,235
28-32 Kilometer 8,645
32-36 Kilometer 9,125
36-40 Kilometer 9,435
More than 40 Kilometer 9,915 Rials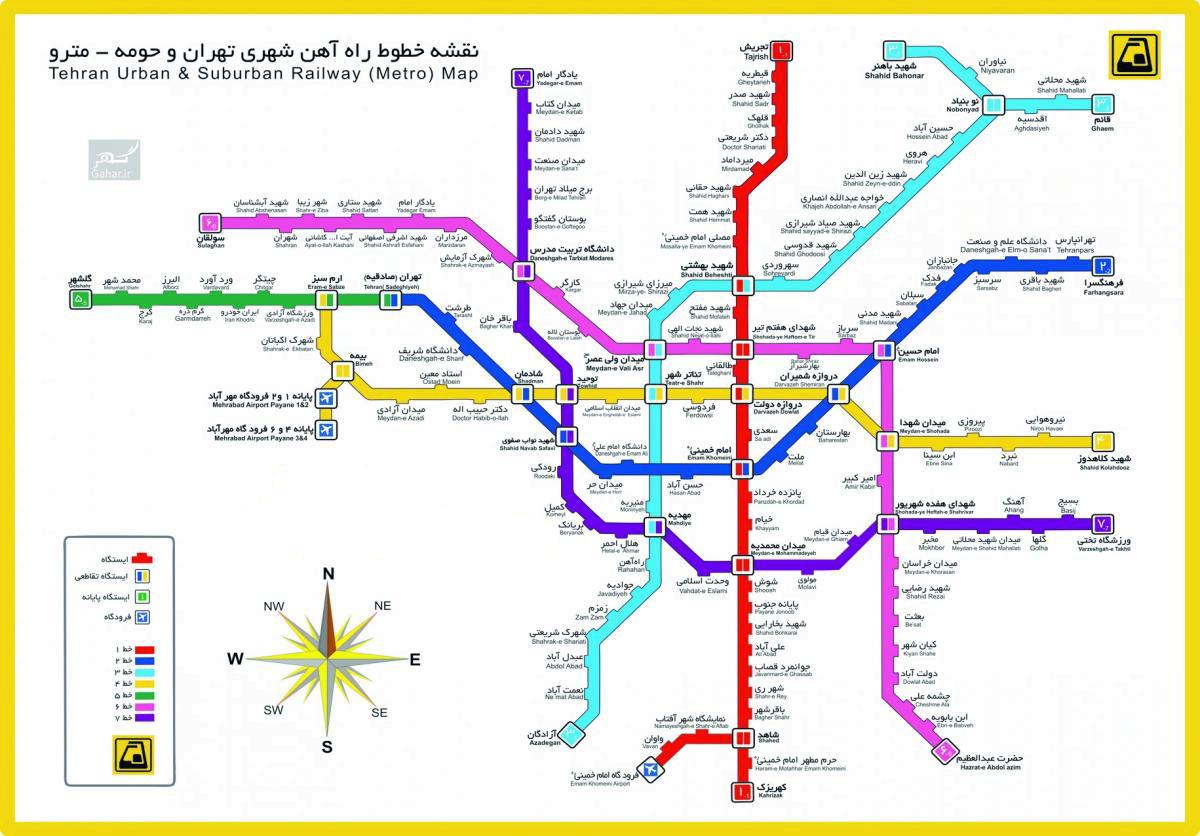 About the Metro
The best way to get around is Tehran Metro (http://metro.tehran.ir), which has transformed the way the city moves by cutting journey times by up to an hour on some cross-town trips. At the time of writing five lines were complete and another two under construction.
There are two main ways you can pay for tickets. Magnetic tickets cost single/two-trips IR7000/11,0000 between any two stations on the system. Better value and more convenient are the pre-paid cards, which cost an initial IR50,000 including IR35,000 of travel credit. You can buy these and have them topped up at metro stations; using them, each trip fare is significantly cheaper.
The pre-paid cards can also be used on the buses, including BRT services or for on-street parking. Be sure to tap in and tap out with these cards: at some stations, the place to tap out is on the wall not at the ticket barrier – watch what other passengers do.
Trains start at about 6am (7am on Fridays and holidays) and stop by 11pm. Services are most frequent and crowded during peak hours (7am to 9am and 3pm to 5pm). The first and last carriages of every service are for women only, though women are free to travel in any other carriage. Station announcements are in Farsi only, so keep an eye on the English maps inside the trains.
Line 1 (Red)
Line 1 is the most useful for travellers. It runs between Imam Khomeini International Airport and Tajrish in the far north. Tajrish is the jumping-off point for Darband, Tochal and the Sa'd Abad and Niyavaran palaces. Heading south, Line 1 stops at Terminal-e Jonub, Rey and Haram-e Motahar for both the Holy Shrine of Imam Khomeini and the Behesht-e Zahra martyrs cemetery.
Line 2 (Dark Blue)
Line 2 runs between Tehran (Sadeghieh) in the west – where it connects with Line 5 (Green) to Karaj – and Farhangsara in the city's east. It connects to Line 1 at Imam Khomeini and is handy to the Amir Kabir St cheap hotels (Mellat station).
Line 3 (Light Blue)
Line 3 runs from Azadegan in the southwestern suburbs to the far northeastern suburb of Ghaem. Useful stops include Rah Ahan for Tehran Train Station; Teatr-e Shahr and Meydan-e Valiasr for central Tehran; and Nobonyad for Niyavaran Cultural-Historic Complex in the northeast.
Line 4 (Yellow)
Line 4 runs between Mehrabad airport in the west and Shahid Kolahdooz in the southeastern suburbs. It's also useful as a link between central Tehran and Meydan-e Azadi, for Azadi Tower and Terminal-e Gharb.
Line 5 (Green)
Line 5 is largely above ground and is, in effect, an extension of Line 2. It runs from Tehran (Sadeghieh) to the west passing via Karaj to Golshahr.
Other rail lines are coming on stream on a monthly basis, so keep a look out for future posts.