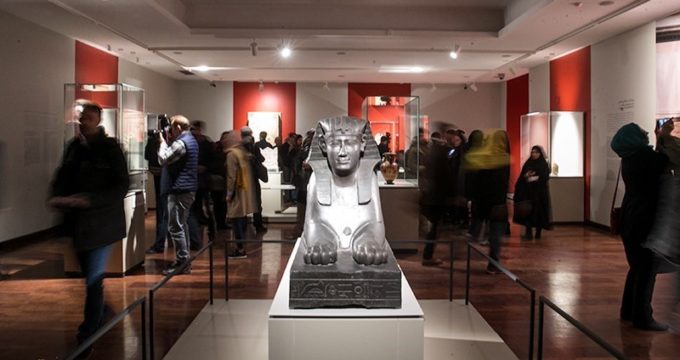 Louvre in Tehran extended due to popular demand
The 'Louvre in Tehran' museum collection currently on show at the National Museum of Iran "Iran Bastan" has been extended until July 30, according to cultural officials.
The event was due to end this month, but due to unprecedented demand from visitors to see the international exhibition, organisers at the museum had requested to keep the lights on for a few more weeks.
The Louvre exhibition was also meant to head to Mashhad as part of a travelling exhibition, however, that leg of the museum tour was cancelled due to insurance reasons.
The brick building of the Museum of Ancient Iran was designed by French architects André Godard and Maxime Siroux in the early 20th century and was influenced by Sassanian vaults, particularly the Taq Kasra at Ctesiphon. Its construction, with an area of about 11,000 square metres, began in 1935 and was completed within two years by Abbas Ali Memar and Morad Tabrizi. It was then officially inaugurated in 1937.
So, the good news is there is no need to spend money and see the so-called Louvre in Abu Dhabi as Tehran will also have an exhibition for a few months with some the most beautiful pieces from the famous French museum.
Taken from different parts of Louvre, the 56 items will be featured in four categories, including "The birth of a collection", "The glory of world civilisations", "Globalization dream" and "A living museum."
Check out this video produced by AFP news agency on the exhibition!
According to Jebreil Nokandeh, the head of National Museum of Iran, the collection will include objects belonging to civilisations in West Asia, Europe and North Africa, including Sumerian, Assyrian, Hittites, ancient Egypt, Greece and Rome. Also, paintings and lithography work by Eugene Delacroix, French romantic artist (1798-1863) and Camille Corot, French portrait painter (1796-1875).
There will also be a statue of the Sphinx on display brought from the Egyptian collection in France. Which is being demonstrated as one of the top pieces on show.
 Where to find the museum?
If you're heading in the evening, then why not try the amazing 30 Tir street food market directly at the side of the museum. You can relax in the late summer sun with a snack after iftar in Tehran.