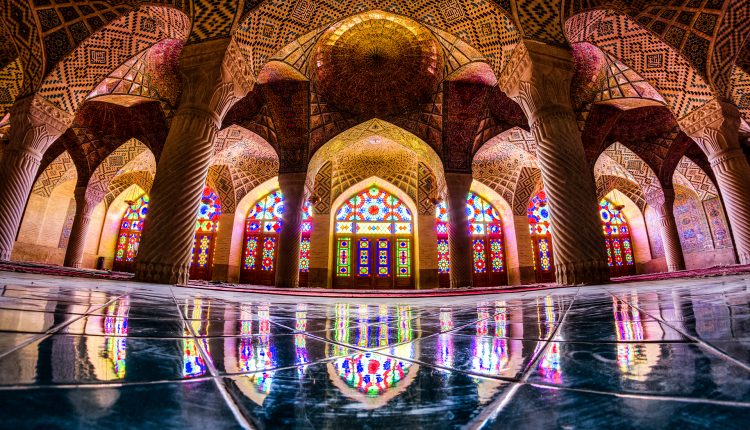 CC: Wikimedia Commons
A Weekend in Shiraz with LiT partners
Sponsored article: Shiraz Tour
Looking to see Iran while you're living in Tehran? Well, LiT is proud to present a special offer to our readers, both local and international in conjunction with 1st Quest Travel. 
Shiraz, the ancient city of Iranian poets is our first joint promotional piece, where you can visit the several sites around the city, for an all-inclusive price.
Shiraz 2-Day Break
In this two-day trip, you'll visit the most famous and popular landmarks of Shiraz. In the first day, you'll visit Karim-Khan Citadel and Bath, Shiraz's Bazaar, The Pink Mosque, Shiraz's famous Eram Garden, and the beautiful tomb of Hafez, the most famous Iranian poet. You'll also spend a day visiting Persepolis and Pasargadae and other remains of ancient Achaemenids empire.
Duration
2 Day (Every Weekend)
Attractions
Karim-Khan Citadel, Karim-Khan Bath, Shiraz's Bazaar, The Pink Mosque, Eram Garden, Tomb of Hafez, Persepolis, and Pasargadae
What's Included
Economy

·         3-star Hotel (1 night)

·         Round-Trip Flight (Tehran-Shiraz)

·         Airport Shuttle

All-Inclusive

·         4-star Hotel (1 night)

·         Round-Trip Flight (Tehran-Shiraz)

·         Airport Shuttle

·         Driver Guide (during the whole trip)

·         All entrance fees

·         Dinner & Breakfast

Price
Economy: €129 per person for a group of +2 people

All-Inclusive: €229 per person for a group of +2 people

Payment Method
5 days in advance in cash/ via bank transfer to an EU account
Trip Itinerary
Day 1: Shiraz, City of Poetry and Love
06:30~10:00 – Tehran to Shiraz
Wake up early and get ready for your shuttle to take you to Tehran's Mehrabad airport. Your shuttle will be waiting for you at Shiraz airport upon your arrival and will take you to your hotel. Check-in and leave your luggage in your hotel and get ready to start the visits.
10:00~14:30 – Karim-Khan Complex, Bazaar, and the Pink Mosque
You have an entire day to visit historical attractions and monuments of this great city. You will start your day by visiting historical Karim-Khan Citadel and Bath and traditional Bazaar of Shiraz. The sites are nearby and you can walk between them. Then, the amazing Pink Mosque is waiting for you to wander in and take memorable photos.
14:30~16:00 – Lunch & Free Time
You're a little tired, probably, and the sun is daunting now!  So, It's better to relax in one of Shiraz's cosy and beautiful cafés and maybe have a delicious light lunch.
16:00~19:00 – Eram Garden & Hafez Tomb
Eram is a true symbol of Persian gardens, with its numerous trees and flowers and water flowing everywhere. So, enjoy its peaceful atmosphere and treat yourself with some beautiful photos.
Now, it's time to go to the Tomb of Hafez which is the best place to get a touch of Persian culture and poetry. You can also listen and watch many Iranians reading Hafez's poems wholeheartedly.
19:00 ~21:00 – Dinner & Checking in your Hotel
It's dinner time! We recommend you have your first dinner in Raaz Garden restaurant which is recognized among the top-10 restaurants in Shiraz by Trip advisor. After your delicious dinner, go to your hotel and have a good night's sleep to wake up early tomorrow!
Day 2: Ancient Persia
08:00~19:00, Persepolis and Pasargadae
Wake up early and get ready to go to Marvdasht (located 62 km away from Shiraz) where magnificent Persepolis and Pasargadae are located. UNESCO has declared Persepolis (aka Takht-e-Jamshid) as a World Heritage Site in 1979. So, it's a must-visit in this country and a true symbol of the ancient Persian empire.
19:00~20:30, Dinner
HaftKhan is the best restaurant in Shiraz, period. This is how a traveller describes it on Trip Advisor:
"Wonderful restaurant with wonderful food, the buffet section is highly recommended which there you can have Iranian and also some international dishes. There is 7 section in this restaurant, Buffet, Fast Food, Coffee Shop. Iranian Traditional, Barbeque, Classic, etc."
 20:30 -23:30, Shiraz to Tehran Flight
It's time to say goodbye to lovely Shiraz and get back to Tehran! Yes, it's always hard to say goodbye! Your return flight will depart at 22:00, and you need to be there an hour in advance.
To book with 1st Quest for upcoming weekend tours, use the special code "SHIRAZ-LIT" to book your place.