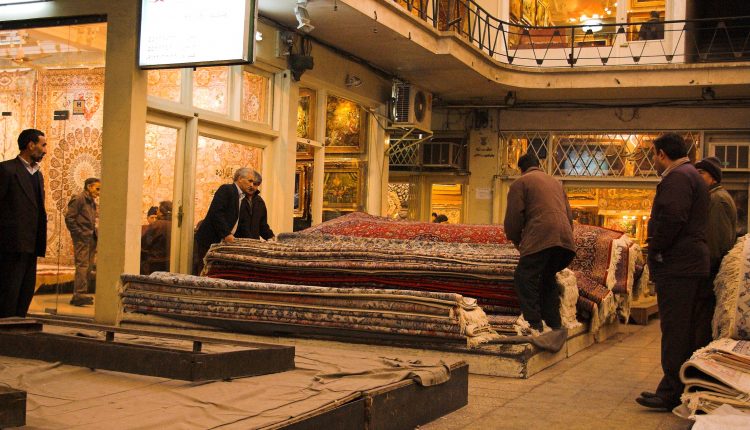 CC:Navid Shamsari
Best Persian Carpet Shopping in the Grand Bazaar
The Tehran Grand Bazaar (Bazaar e-Bozorg) is the oldest historical trading centre in Tehran and is one of the best places to buy a Persian carpet in Tehran. The layout of the site is split into dozens of corridors and nooks and crannies selling everything from kids toys to sunglasses adoring the names of famous brands.
Over the dozens of corridors and walkways, the Grand Bazaar is roughly 10 Kilometres in length (6.2 miles), with hundreds of traders looking to offload their wares and products at a fraction of the price of retailers uptown.
In addition to shopping, the Grand Bazaar contains several mosques, budget hotels and banks with ATMs. Access to the Grand Bazaar has been greatly improved in recent years with electric minibuses shuttling people to Imam Khomeini Square (Toopkhooneh) and also access to the Tehran Metro at 15 Khordad station.
Persian Carpet Bazaar
The best way to access the Tehran Rug Bazaar is through Khayyam Street near the metro, from there you can meander through the carpet bazaar to your heart's content. Don't worry about not finding it as you can say "Farsh" meaning rug in Persian to any shopkeeper and he will point you in the right direction.
Rugs from all over Iran are available in the Grand Bazaar with beautiful handmade silk and wool rugs available. Popular rugs with foreigners are usually called "Gabbeh," other popular but also more difficult to find are the "Baluch" rugs from the south of the country. Other geometric patterns include Qashqai rugs made by the nomadic women of the tribes of central and western Iran.
If you're looking for something unique but not expensive, we highly recommend the Qilim/Kilim rugs which are made with a coarse wool. These are also great to bring back in your suitcase and don't weigh a tonne like a Gabbeh.