Tehran Book Garden is more than the name suggests
Tehran Book Garden situated in the Abbasabad Hills area of Tehran is a sight to behold. Nominated as Iran's entry for Building of the Year 2018 on Architecture Daily's website the centre is more than just a 'garden.'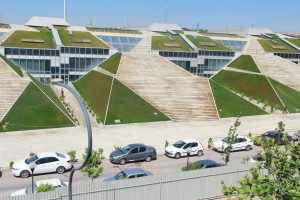 Designed by Iranian architects and spread over a 65,000 square metre area, the Tehran Book Garden is a fantastic architectural complex a stone's throw from Haqqani metro station and the motorway with the same name. Completed in late 2017 and cost millions of dollars to construct, the site hints back to the glory days of Persia's garden cities while also encompassing a sizeable internal hall packed with bookstores and cafes and restaurants.
The site's primary intention is to create a permanent home for exhibiting books and hopes to have a 'quantitative effect' on society's appreciation of reading and learning. With theatre spaces, cinemas, auditoriums, cafes and restaurants, the Book Garden is an excellent place for a day out away from the hustle and bustle of contemporary Tehran.
History in the Architecture
Externally, the building harks back to historical designs, and has an air of ancient Persian and Mesopotamian architectural styles—there is something of a ziggurat design to the exterior of the structure. Topped with a 'green roof' which will add to the cooling effect of the main structure, Tehran Book Garden accommodates several features to its design which is unique in Tehran and the broader architectural framework of the city.
Money has not been spared in the construction of the hall structure, with several facilities available including a sponsored LG Science exhibit. Moreover, the vast science centre on the first floor of the complex gives a great showcase to Iranian engineering, with several pieces built by graduates of Tehran's universities.
Food Truck Quarter
Food Trucks took Iran by storm in 2017, not least due to the rising cost of commercial property prices across the city, and Tehran Book Garden has not escaped this trend either with at least half a dozen food trucks situated in the courtyard at the south end of the complex. Top tip, at this time of year, wrap up warm!
For more insight on things to do and see in Tehran, why not visit our City Guide page, where we highlight all the latest places and events are going on.
Abby A: For fans of books and science of all ages. An impressive modern building set in slightly surreal landscaped gardens. A great place to spend a few hours with kids. A large kids book store with a very competitive catalog. Entering interactive science exhibition provides a wold class educational experience. Quiet places to sit, lots of cafes and "food truck" style dining.