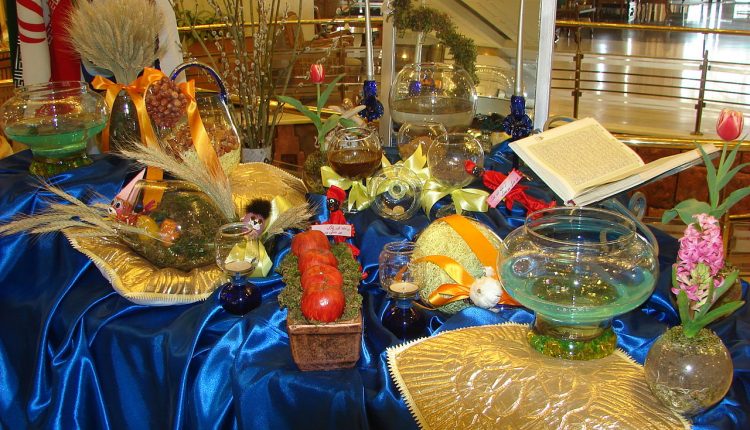 Hessam M. Armandehi: CC
Understanding the Persian New Year: Haft Sin
The Persian New Year is a wonderful time in Tehran, spring is in the air and everyone is happy and relaxed. It's also a perfect time to spend a staycation in the Iranian capital as many of the popular sites around the city remain open of incoming visitors.
Persian New Year, Nowruz coincides with the Spring Equinox. Nowruz is a cultural celebration in Iran and has been celebrated for millennia. It is customary for families to gather around the Haft Sin at the moment of the Spring Equinox and celebrate the transition from winter into spring together.
If you are fortunate to stay in Tehran during the Persian New Year (from March 21) called Nowruz then you will want to get into the rhythm of how Tehranis celebrate the festival.
The first thing you will want to do is collect all the items of a Haft Sin, or "Seven S's" as it roughly translates to. This is basically a special table spread called a "sofreh" with seven everyday items in Persian that begin with the letter 'S'.
Here's a common list of items to make your Haft Sin!
Somagh (sumac) : symbolises the colour of sunrise
Serkeh (vinegar): symbolises age and patience
Senjed (dried fruit from lotus tree): symbolises love
Samanu (sweet pudding): symbolises affluence
Sabzeh (sprouts): symbolises rebirth
Sib (apple): symbolises health and beauty
Sir (garlic): symbolises medicine
Additional items that begin with the letter "s" that are commonly seen on the Sofreh are:
Sekkeh (coin): symbolizes wealth and prosperity
Sonbol (hyacinth): a spring flower
Other items included are:
Mahi (fish): symbolizes life
Tokhmeh Morgh (egg): symbolizes fertility
Sham (candle): symbolizes enlightenment
Shirini (sweets): symbolizes spreading the sweetness
Don't forget, a book of poetry or Quran is also a customary addition to your sofreh!