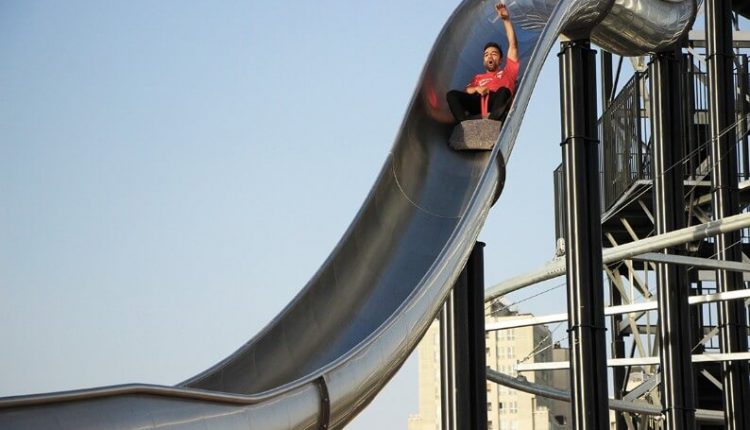 Freefall: The biggest slide in Tehran
Freefall Slide in Tehran
Slides are just for kids, right? Well, not according to the organisers of this new mega slide in the west of the capital city. Yes, that's right, there is a several-story-high slide open in the west of Tehran called "Freefall".
The freefall slide is 24 metres high and 80 metres long, and according to the Tik8, the website selling discounted tickets for the event is probably the best ways to have fun.
If you're new to Tehran, then a trip out to Chitgar lake as it is informally called – the official name of the lake is the Persian Gulf Martyrs Lake, however, due to be situated north of the Chitgar park area, the name has stuck.
We recommend the restaurants to the east of the lake called Bam Land. This shopping centre and restaurant site is the best-situated group of eateries anywhere west of Chamran highway.
If you are looking to save a few tomans too, we can recommend getting your tickets via Tik8.com, a local ticketing website, who are currently offering a discount on purchases.
Where to find the mega slide?
The Freefall slide is part of the western development of the Chitgar lake called "Wonderful Land." We admit it probably sounds better in Persian too.
More about Bam Land!
The architects of Bam Land have taken design inspiration from historical Iranian architecture of the south of the country, combining it with contemporary twists.
Disclaimer: Living in Tehran does not make a commission or a referral fee for recommendations unless specifically noted.