Best places to buy a mobile phone in Tehran
Mobile phones are continually being updated and with the recent removal of popular ride-hailing application Snapp from the Apple iOS Store, now is the time to buy a new Android! Trust me; they've got quite impressive in recent years.
There are several places online and offline to buy phones in Tehran, and the city hosts probably the highest concentration of small traders battling to offer the lowest price. Seriously, sometimes we wonder how much margin these guys make as their rates are much lower than Europe.
Most media websites would direct you to DigiKala. However, the leading e-retailer Tehran is not the cheapest by a long stretch. There are plenty of useful other sites which offer more affordable prices for gadgets than the so-called "Amazon of Iran."
Offline Shopping Centres
If you're in the mood to stroll around and play around with a phone before purchasing here are the best (and probably cheapest) malls to buy your new Samsung, or Huawei.
Charsou Bazaar
Charsou Bazaar in the newest multi-floor shopping centre in Tehran. Opened in 2015, the mall has official representation from the major Korean and Chinese smartphone makers. LG, Samsung, Huawei and others are represented by formal local distributors and offer officially imported items with guarantees – unlike buying an Apple product.
Although the prices of the official stores are slightly higher than independent retailers, you can be assured you will get the real deal. Upstairs in Charsou Mall, are the several dozen smaller distributors who will offer slightly better prices. And beyond that, you will see a raft of retailers flogging mobile phone covers at a fraction price you would pay uptown or even abroad.
Aladdin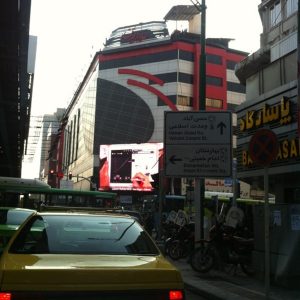 Aladdin Shopping Centre is the oldest mobile phone mall in Tehran and is directly opposite Charsou Bazaar. Be warned although the mall is the oldest; it usually has the most miserable reputation with customer service (and building safety). However, the mall is typically the place where you will find the real 'bazaaris' competing to offer the lowest price in the city.
Iran Mobile Mall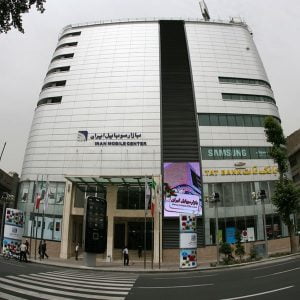 Superseded by Charsou, Iran Mobile Mall is one of the newer shopping centres dedicated to mobile phones. The mall offers several official distributors who also competitive pricing. On the upper floors of this mall, you'll also find several lesser represented Chinese manufacturers including ZTE, who offer great phones at bargain prices.
Paytakht Shopping Centre
If you're not interested in heading downtown. There is also the chance of finding a bargain at Paytakht shopping

centre on the corner of Vali Asr and Mirdamad. This mall is littered with both laptop, tablet and mobile phone retailers. If you're a fan of Apple, then this mall has the highest concentration of retailers selling that company's equipment.
Buying online
To date, there is no digital goods e-retailer which offer a full English language experience, but don't let that put you off from getting a real bargain. Luckily most foreign products and brands are written in Latin text. Hence you can quickly find the chosen item through the search bar function on most websites.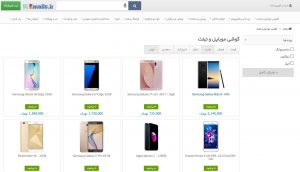 The best place to start a search for any item is two price comparison website called emalls.ir and gheymatyab.com. These sites are particularly useful for getting the latest prices on mobile phones and televisions among other things.
However, in the case of emalls.ir make sure you see if the retailer is in Tehran. This information is listed under the retailer name.  Each retailer is given a user rating so you can avoid the dodgy ones or ones based on the Iran/Iraq border town of Baneh.
Many of these stores accept cash on delivery, so if you cannot figure out the Persian online payment interface, do not fret.
Happy mobile hunting!
If you're interested to know more about shopping in Tehran then read our main page!