Neda Monem
Where to get coffee beans/freshly ground coffee in Tehran
Part One
All it takes is a stroll around the north and central Tehran to realise that coffee is some serious business in the capital.
During the past decade, the coffee business has boomed in Iran. Not only are there chain and local coffee houses serving on their customers, but for the real coffee-lover, there is also a wide range of stores at which you could shop to make the perfect cup at home.
In this article and the next, we will introduce some of the niftiest joints — both vintage and modern — at which you can get some decent coffee beans and brewing gear.
1: Vartan
Probably one of Tehran's oldest stores specialising in coffee is Vartan. Tucked in the city centre with its tall glass display and vintage lettering you'll easily find this shop on the corner of Asjedi and West Second on Karim Khan Boulevard. The corner shop and its humbly untouched ambience will have your heart at first sight. Here you can pick up Moka pots, Turkish stovetop brewing pots, coffee filters, as well as different types of coffee for home use.
2: Edna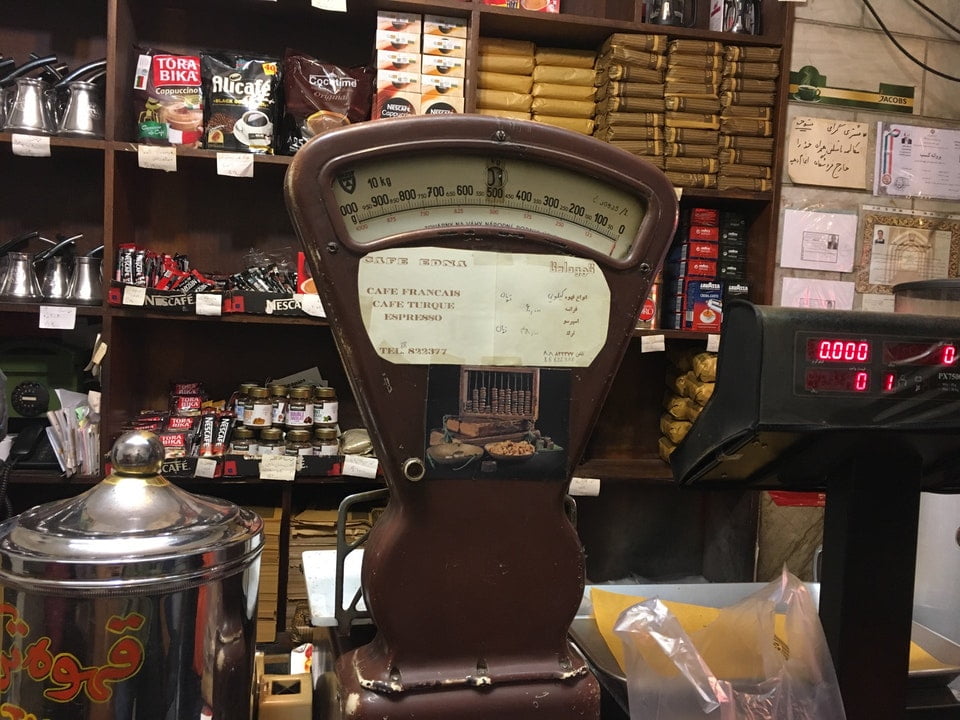 Another vintage coffee store in the same vicinity is Edna that is primarily famous for its neon sign. The shop is on the west side of north Mofatteh and about one hundred steps north of Modarres highway. One look at the store display and you will notice that the shop is almost half a century old. While it might seem too messy for the liking of some; it makes up for that with its genuine quality and by merely being a pioneer in its kind.
3: Melo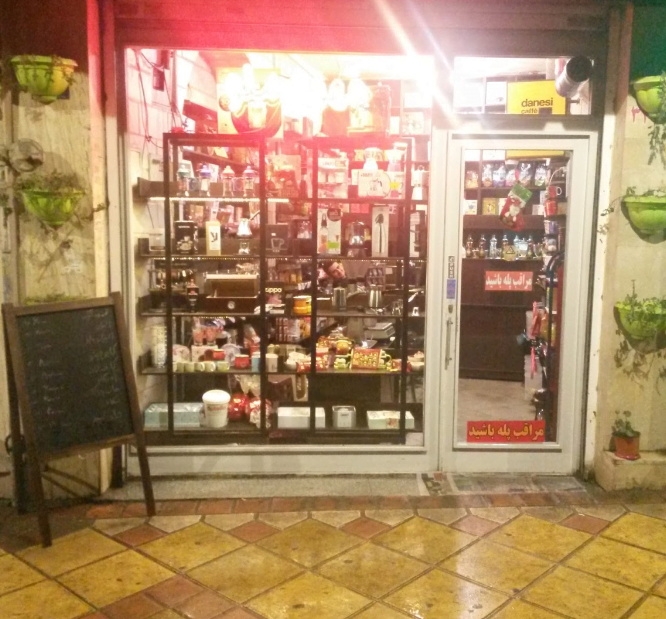 Now it wouldn't be an exaggeration to say that the central district of Tehran is the coffee-lovers' heaven for there are countless stores to shop for all things related to coffee in this area. From chocolate to whole coffee beans, commercial coffee to home brewing gear, Nespresso capsules or even Nescafe, Melo has got it all. Find this one on the west side of Bahar Street between Baharmastian and Bakhtiar.
4: Khane be Khane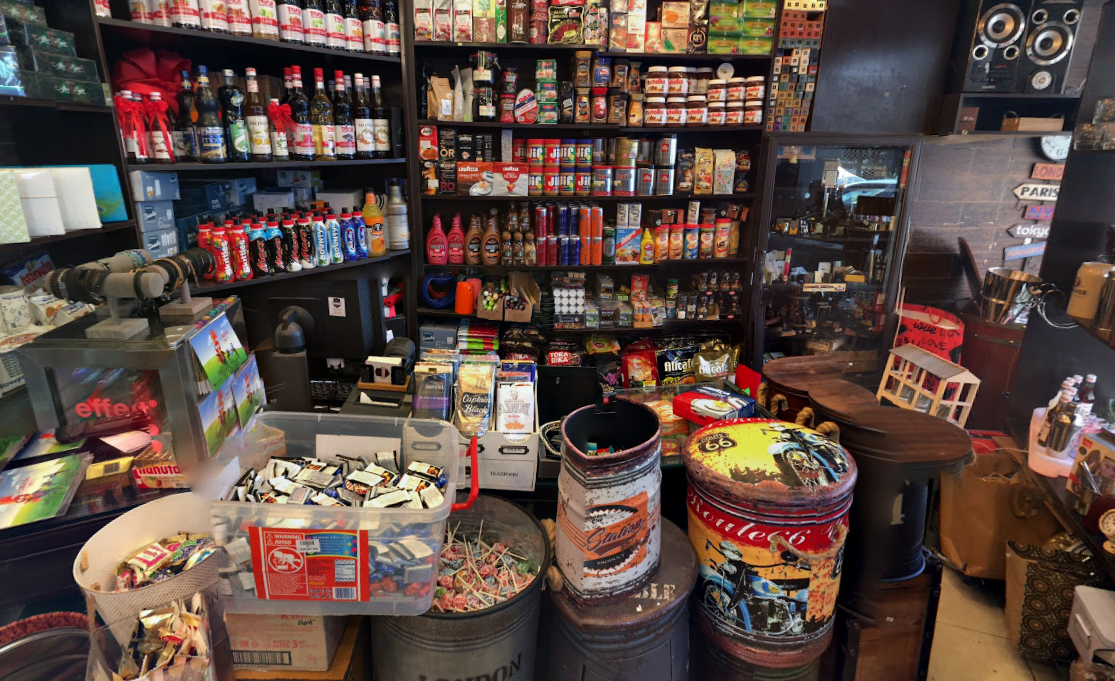 Meaning from home to home in Persian, this store is primarily known as a gift shop selling home décor, smoking gear, chocolate and treats. But you can also find a range of commercial or speciality coffee (ground and beans), cups and mugs, and Nespresso capsules at Khane be Khane. They also serve coffee to drink at the store so go ahead and ask them for a cup if it's time for your caffeine fix. From personal experience, the shopkeepers couldn't be any nicer or more attentive to their customers. Khane be Khane is located at number 18, Mashahir Street, Qaem Maqam Farahani Street, Haft-e-Tir.
5: Aram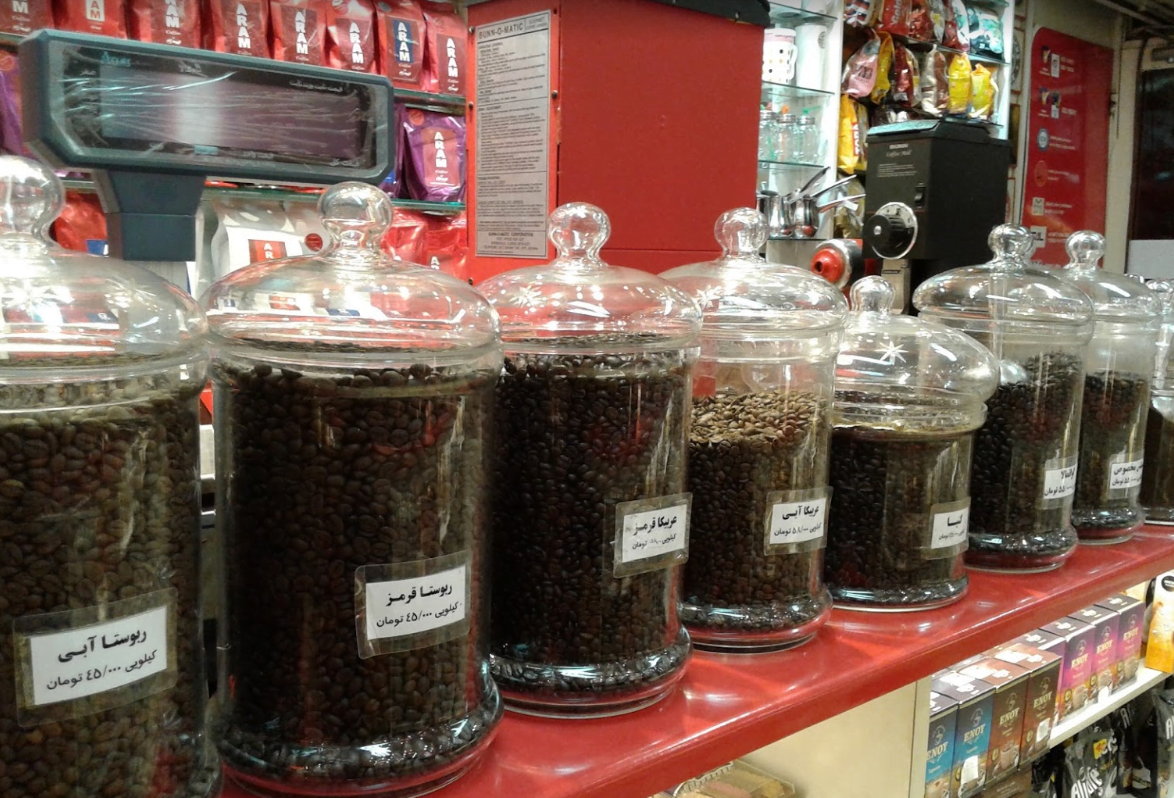 One of the most iconic stores on Qaem Maqam Farahani is Aram and its blazing red sign. If you are a coffee-lover and a pedestrian on this street the aroma of ground coffee will have you headed in that direction before you even know it.
Here, the coffee business gets more serious. You have a wide range of beans to choose from including Guatemala, Columbia, Arabica, and Robusta among others. Once they weigh out your order, you can take the beans home as they are to grind later by yourself or have it ground right there at the shop. The shopkeepers will help you choose how coarse or fine you want your coffee ground depending on the method you intend to brew it at home.
There is, however; much more to this place than just coffee, you can also buy brewing gear, coffee grinders, mugs, pastries, chocolate, and nuts.
6: Talai (Golden Café)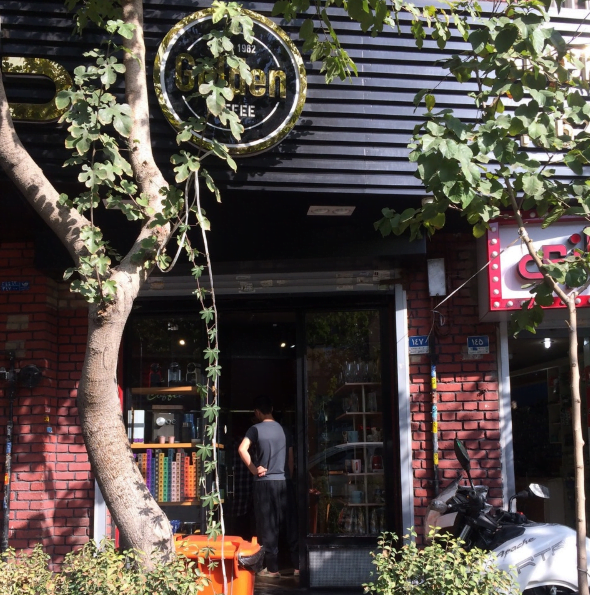 Bustling with life, Mirzaye-e-Shirazi Street is a hub for several things: gift shops, chocolatiers, old sandwich shops, and last but not least coffee and pastry shops. One of the most famous of these is Talai Coffee (Golden Café) and a pastry shop of the same name. At the coffee store, you can either get a drink to sip on or buy all sorts of coffee to take home. This includes many of the well-known commercial packaged brands as well as Talai's house special which they weigh out for you on demand. The coffee store also sells several treats suitable for gifts such as fancy chocolates and cute cups. You will find this store on the east side of the road to the south of Motahari Street and about 400 steps to the north of a gas station.
This article will be completed in a second part.