Discover the Flavors of Kalam Polo
Kalam Polo Recipe
Introduction: Discover the Flavors of Kalam Polo
Immerse yourself in the culinary wonders of Iran with Kalam Polo, an exquisite Persian rice dish brimming with tender meatballs, finely shredded cabbage, and a harmonious blend of herbs and spices. A testament to the richness of Iranian cuisine, each bite of Kalam Polo promises a delightful gastronomic experience. Today, we present our cherished Kalam Polo recipe, an ideal way to explore and appreciate the flavors of the Middle East from the comfort of your own kitchen.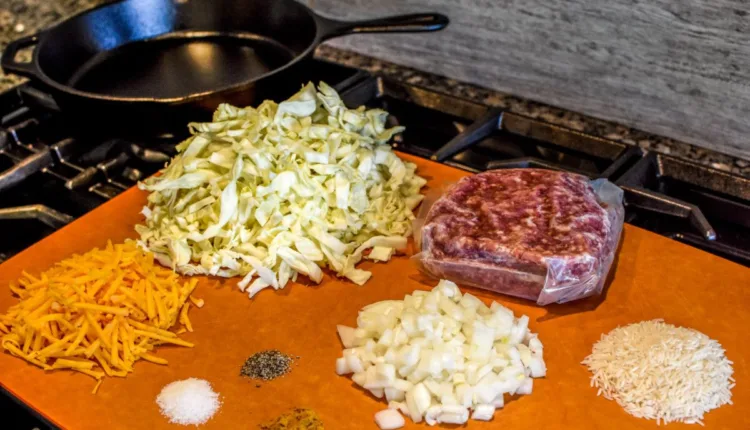 Ingredients for a Taste of Iran: Kalam Polo
For the Meatballs:
1.5 lbs (700 g) ground beef or lamb
1 medium onion, finely grated
1/2 teaspoon turmeric
1/2 teaspoon ground black pepper
1 teaspoon salt, or to taste
For the Rice and Cabbage:
2 cups basmati rice
1 small head of cabbage, finely shredded
1 large onion, finely chopped
2 cloves garlic, minced
1 teaspoon turmeric
1/2 teaspoon ground black pepper
1 teaspoon salt, or to taste
3 tablespoons vegetable oil
1 bunch fresh dill, finely chopped
Step-by-Step Cooking Instructions: Crafting Kalam Polo
Create the Meatballs: Merge the ground meat, grated onion, turmeric, black pepper, and salt in a bowl. Ensure an even mix and form into petite meatballs, roughly the size of a walnut. Set these aside.
Cabbage Preparation: Heat 2 tablespoons of vegetable oil in a large pot over medium heat. Add the chopped onion and sauté until translucent and slightly golden – this usually takes about 5 minutes. Next, integrate the minced garlic, turmeric, black pepper, salt, and shredded cabbage. Stir thoroughly and allow the cabbage to soften for about 10-15 minutes.
Prepare the Rice: Parallelly, rinse the basmati rice under cold water until the water runs clear. Follow the package instructions for cooking the rice.
Combine and Simmer: Introduce the meatballs and chopped dill to the pot with the cooked cabbage. Stir gently, cover the pot, and allow it to cook for about 15-20 minutes, ensuring the meatballs are fully cooked. Finally, combine the cooked rice into the pot and stir gently, allowing it to cook for another 10 minutes, enabling the flavors to blend together beautifully.
A Culinary Tribute to Persian Cuisine
Kalam Polo, translating to "Cabbage Rice," stands as a beloved comfort food within numerous Persian households. Its hearty ingredients coupled with heartwarming spices render it a versatile dish, suitable for any season.
Serving Instructions: Presenting and Enjoying
Presentation: Serve Kalam Polo hot, straight from the pot. The colorful palette of rice, cabbage, and meatballs creates an inviting presentation.
Garnish: Enhance the freshness and visual appeal by garnishing Kalam Polo with a sprinkling of fresh herbs like parsley or mint. A few saffron threads could add a dash of luxury and color.
Serve: Dish out generous servings of Kalam Polo onto each plate. This dish pairs wonderfully with a side of yogurt or a simple cucumber and tomato salad.
Savor: Enjoy the delightful fusionKalam Poloof flavors and textures that Kalam Polo offers. It's a dish that truly encapsulates the depth and complexity of Persian cuisine.
Embark on a culinary journey through the heart of Iran with this delectable Kalam Polo recipe. A perfect dish to share with loved ones, introducing them to the mesmerizing world of Persian cuisine. Relish the process of crafting this dish and the shared joy of dining. Happy cooking!
Check out our other recipes here!