Where to stay in Tehran
Where to stay in Tehran 2022
There are several dozen hotels in Tehran where one can stay for all different budgets, but if you are here on business, here are some of the best that we can recommend from our on the ground experience of the city.
There are several dozen hotels in Tehran where one can stay for all different budgets, but if you are here on business, here are some of the best that we can recommend from our on the ground experience of the city.
Tehran has a few significant hotels, with only a handful of new-build in recent years. But despite the lack of international brands, you can still get 4 and 5-star treatment at a good number of local hotels.
Persian Plaza Hotel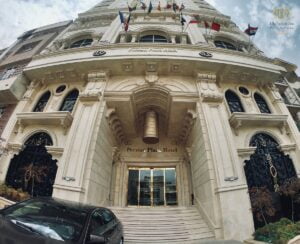 Persian Plaza is a five-star project in the heart of the Middle East's administrative and trade centre in Tehran's Abbas-Abad neighbourhood. Guests have the option to dine and relax in one of the hotel's luxurious restaurants and cafes, conduct business meetings in the hotel's multi-purpose conference hall and business centre or celebrate a special occasion in one of the two fully catered luxurious banquet halls.
Book here: Book now at the Persian Plaza Hotel
Espinas International Hotel
Now, check out exquisite luxury in the centre of Tehran. A stay at Espinas International Hotel At The Boulevard, Tehran offers the opportunity to experience the heart of Tehran from the very centre of the city's prestigious commercial business buildings, organizations and offices all along the boulevard including various banks and hospitals and the Ministry of Agriculture building, and the University of Tehran.
Book here: Book now at the Espinas International Hotel
Espinas Palace Hotel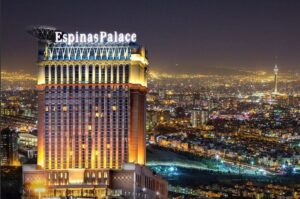 Moving on, Standing proudly in the north of Tehran, Espinas Palace Hotel, a hidden gem and a peaceful heaven, exudes the elegant ambiance of a real luxury hotel. Espinas Palace mixes the finest of the fine and the best of contemporary modern comfort with a spectacular taste for the past. As one of Tehran's most premium buildings with exhilarating architecture, the beautiful Palace is an imposing city landmark, which boasts a magnificent lobby, dramatic public spaces and indulgently comfortable bedrooms.
Book here: Book now at the Espinas Palace Hotel
Tooba Boutique Hotel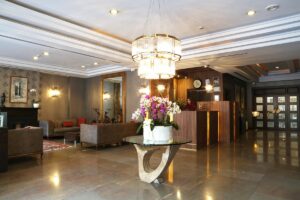 Enjoy one of the most attractive and luxurious hotel in Tehran, the only boutique hotel in iran, located in the most important trade and office centre (Africa Blvd) provides the possibility of easy and fast availability to main highways and streets of the city. Tooba Hotel has 27 fully equipped two bedrooms apartments, one bedrooms apartment, royal studio and studio which are furnished to the highest standard.
Book here: Tooba Boutique Hotel
Tehran Grand Hotel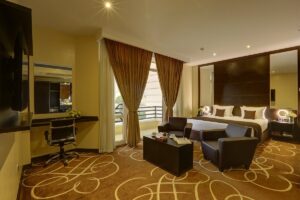 Also, see why so many travellers make Tehran Grand 1 Hotel their hotel of choice when visiting Tehran. Providing an ideal mix of value, comfort and convenience, it offers a family-friendly setting with an array of amenities designed for travellers like you.
Given the close proximity of popular landmarks, such as Imam Jaafar Sadegh Mosque (1.2 mi) and US Den of Espionage (1.4 mi), guests of Tehran Grand 1 Hotel can easily experience some of Tehran's most well known attractions.
Book here: Tehran Grand Hotel
Hanna Boutique Hotel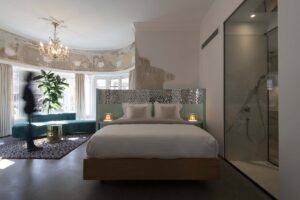 Moreover, there is some unique places for business travellers. Check out the story of Hanna Boutique Hotel "Our story begins with a ninety-year-old house on Lolagar Alley, a famous street in the heart of Tehran. Hanna Boutique Hotel is an expression of contemporary Tehran, a collection of layers that have been added on over ninety years. The experience of staying at the hotel will present you with different glimpses of life in Tehran, a unique experience at the center of a busy, chaotic city, where you can enjoy art, architecture, design, and modern-day hospitality."
Hanna Boutique Hotel is Persian Garden Studio's first experience in urban rehabilitation. The building was purchased by the studio in 2016, and after two years of restoration, Hanna Boutique Hotel was inaugurated in winter of 2018. The hotel has seven rooms, a restaurant, and Platform and Pop-Up spaces. Its interior design is inspired by contemporary Iranian and international architecture, resulting in a modern, intimate space that will provide its patrons with a unique experience.
Book here: Book Hanna Boutique Hotel
 Niloo Hotel (Four Seasons)
Niloo Hotel's spacious Apartments are furnished to the highest standards. Relax in the tranquillity of their spacious rooms. Each apartment is a suite, and can offer either one or two bedrooms, and fitted with both a power shower and bath.
We offer a range of additional services from FREE broadband access to satellite and wide, flat screen TV, safe-box, and mini bar, as well as all of the other facilities you would expect from a modern international hotel. For those wishing to experience pure luxury and high-class comfort, our spacious executive Apartments and suites offer the modern traveller that extra touch of opulence.
Book here: Niloo Hotel
Atana Hotel Tehran
One of the newest hotels to the Tehran scene is the Atana Hotel. A brilliant contemporary hotel style offering contemporary luxury.
Atana is a 4 star hotel located in the heart of the business centre of Tehran. There is a great accessibility to bus and metro station and easy to reach different part of the city. Facilities are all based on the international standards as follows: Facilities: Swimming pool, Jacuzzi, spa, buffet restaurants, parking, laundry, gym, parking, minibar, free Wi-Fi, roof garden, amphitheatre and breakfast.
Book here: Book Atana Hotel Tehran. 
Looking for low-cost hostel accommodation?