City Travel Guide – Hidden Gems of Tehran
Hidden Gems of Tehran
Explore the Hidden Gems of Tehran: A Guide to Iran's Cultural Capital
As the capital of Iran, Tehran is often overlooked by visitors due to its reputation as a smog-filled and featureless sprawl of concrete, there are many Hidden Gems of Tehran. However, this cosmopolitan city is also a haven for museum lovers and keen travelers. With its rich history and cultural heritage, Tehran boasts numerous museums, bazaars, parks, palaces, and interesting sights that are worth exploring. In this guide, we will take a closer look at what Tehran has to offer.
The History of Tehran
Tehran's history dates back to ancient times when it was overshadowed by the city of Rey, the capital of the Seljuk dynasty. In 1220, the Mongols invaded Rey and executed thousands of people, causing most who escaped to flee to Tehran. This influx of people turned the village into a prosperous trading center. During the mid-16th century, Tehran's natural landscape, lush gardens, clear rivers, and good hunting areas brought it to the attention of the early Safavid king, Tahmasp I. Under his patronage, gardens were planted, some famous caravansaries were built, and the town fortified by a wall with 114 towers.
As Tehran continued to grow under later Safavid kings, European visitors wrote of the town's many enchanting vineyards and gardens. During the Zand dynasty, Tehran was a strategic town. The first of the Qajar kings, Agha Mohammed Khan, chose Tehran as the country's capital in 1778, and most of its growth started during the reign of a subsequent Qajar monarch, Fath-Ali Shah. During the reign of Nassereddin Shah, the city's master sketch was prepared, and modern streets were constructed. Later, huge central squares like Toopkhaneh square (now Imam Khomeini) and quite a few military buildings were built.
Top Places to See in Tehran
Tehran is a city of parks and possesses more than 800 of them, all well-kept. The city is nearly a mile high above sea level and as a result is cooler than other cities in the Middle East. Summer temperatures are around 32°C or about 90-95°F. The air tends to be very dry, which makes Tehran a pleasant place to visit, especially during the evenings when the weather is cool. The proximity of the mountains, the parks and gardens where flowers blossom all through the year, the alleys of trees in the avenues or even smaller streets, and even the water that runs down from the upper city along deep and wide gutters which look like small rivers during spring, are some of the features that make Tehran an attractive destination.
Parks and Gardens
One of the best ways to experience the beauty of Tehran is by exploring its many parks and gardens. With over 800 parks and green spaces, the city offers plenty of opportunities for outdoor recreation, relaxation, and enjoyment. Some of the most popular parks include Mellat Park, Jamshidieh Park, and Laleh Park. These parks offer a variety of activities, including picnicking, hiking, and cycling.
Museums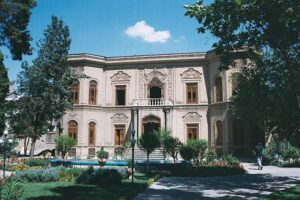 Another great way to experience Tehran's culture and history is by visiting its many museums. The Iran National Museum is a great place to start. This museum features an extensive collection of artifacts from Iran's pre-Islamic and Islamic periods, including pottery, metalwork, and jewelry. Other notable museums in Tehran include the Tehran Museum of Contemporary Art, the Reza Abbasi Museum, and the Treasury of National Jewels.
Palaces and Monuments
For those interested in architecture, Tehran has a wealth of beautiful buildings and monuments. The Azadi Tower, for example, is one of the city's most iconic landmarks. This towering structure, which stands at over 45 meters tall, was built in the 1970s to commemorate the 2,500th anniversary of the Persian Empire. Another notable building is the Milad Tower, which is the tallest tower in Iran and one of the tallest in the world.
Skiing and Winter Sports
The Alborz mountain range on the north of Tehran, which hosts Damavand -the highest peak in Iran- provides fantastic conditions for ski lovers in the winter. In winter, the mountain hotels and ski resorts at Shemshak and Dizin are full several days a week. Some specialist skiers consider the snow value in northern Tehran to be one of the most excellent in the world.
Food and Cuisine
If you're interested in exploring Tehran's culinary scene, you won't be disappointed. The city is known for its diverse and delicious cuisine, which includes dishes such as kebab, ghormeh sabzi, and fesenjan. There are plenty of restaurants and cafes throughout the city that serve traditional Persian cuisine, as well as international dishes.
Planning Your Visit to Tehran
Tehran is a city that is often misunderstood and underestimated by visitors. While it may have its share of traffic, Tehran has a unique charm that is not immediately apparent to outsiders. The city's rich history, cultural heritage, and stunning natural surroundings make it a great destination for those seeking adventure, culture, and relaxation.
If you're planning a trip to Tehran, here are some things to keep in mind:
The best time to visit Tehran is in the spring (March to May) or fall (September to November) when the weather is mild and pleasant.
Tehran has a wide range of accommodations, from budget-friendly hostels to luxurious hotels.
Getting around Tehran can be challenging due to heavy traffic, but the city has a good public transportation system, including buses, metro, and taxis.
English is not widely spoken in Tehran, so it's a good idea to learn a few basic phrases in Farsi before your trip.
Hidden Gems of Tehran, A Conclusion
In conclusion, Tehran may not be the first city that comes to mind when planning a trip to Iran, but it is a destination that is well worth exploring. From its beautiful parks and gardens to its rich history and cultural heritage, Tehran has something to offer everyone. So, if you're planning a trip to Iran, be sure to add Tehran to your itinerary and explore its hidden gems.