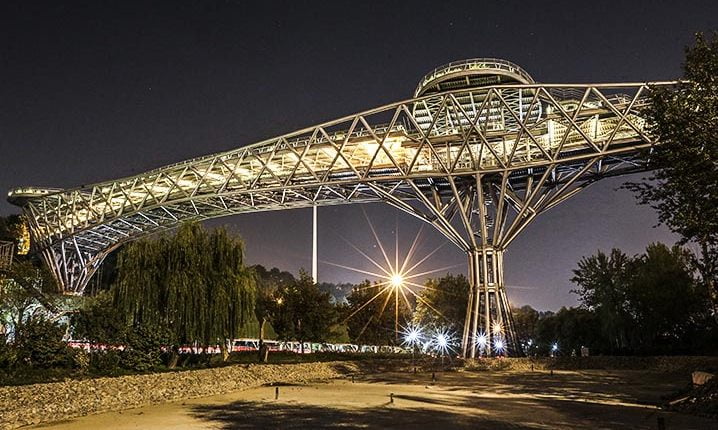 Tabiat (Nature) Bridge in Tehran
If you haven't been already, a visit to Tabiat (Nature) Bridge in Tehran is one of the latest attractions in the city.
Designed by young female architect Leila Araghian and winner of several international prizes for its creativity, Tabiat bridge in Tehran has become one of the must-see places while in the Iranian capital.
Located between two public parks, and spanning the width of the Moddares Motorway, the park is packed with several restaurants and eateries and places to sit and admire the view of the city north and south.
The bridge was designed after one full year, and the designer had created "a place for the people to stay and contemplate and not merely pass the bridge".
Originally the Tabiat Bridge design by Araghian was the first of its sort to create a social space rather than an area to cross, but in the years following its completion in 2014, the bridge has grown to become not only a favourite spot but a great place for amateur photographers during dawn and dusk.
"Located in Haggani Street, you would have good access by the use of subway or the other public transportation systems. The bridge connects Taleghani and Abo- Atash parks, so you could spend plenty of time there, enjoy green nature, have a takeaway snack and relax. It's also worth seeing at night as the bridge is decorated by the lights," according to one reviewer, Majid, online.
How to get the Tabiat Bridge?
There are two points of entrance and exit to the Tabiat bridge, either from the Taleqani Park or the Water and Fire Park, on the other side of the Abbasabad hills region.
If you're in the region, why not check out the Tehran Planetarium?