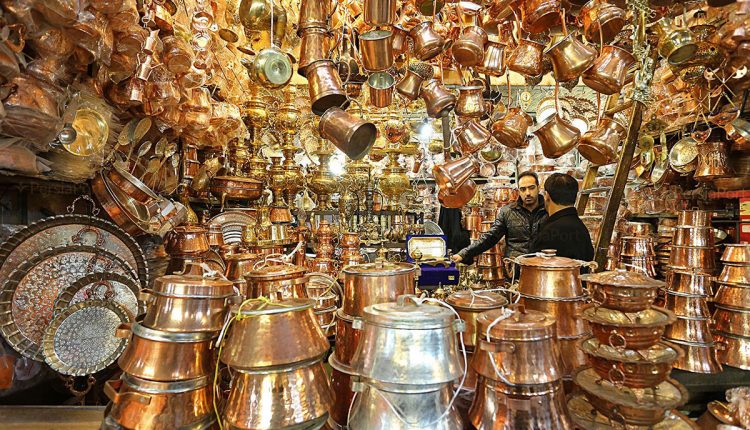 How to grab a bargain in Tehran: The Bazaar
The Iranian rial has taken a hit recently, but it isn't all bad, foreign currency when converted into rial goes even further when buying locally made handicrafts and fine carpets!
Shopping in the Tehran Grand Bazaar, malls and even individual shops is a fascinating experience for those not used to the cultural norms of Iran. The tradition of trade in Iran runs thick through locals veins, but don't let inexperience in haggling and negotiations put you off.
Western shopping habits are generally more commonly known in the Tehran especially in the several new malls around the city. But when shopping in traditional markets like the Tehran Grand Bazaar (Bazaar Bozorg) or the Friday Market (Jom'eh Bazaar) near Istanbul Junction make sure to be confident in your haggling skills and the price you want.
Iranians are seasoned negotiators (JCPOA et al.), having developed their skills from a young age, and notwithstanding there is a chance that you could learn a few tips for future travels in Asia.
Prices are negotiable
Prices are negotiable, even if the rial has taken a hit compared with foreign currencies, however, don't let put you off you should always suggest a lower price to the shop or stall keeper as you could grab a bargain.
Despite the price rises in recent weeks, many products produced by locals, including fine Persian rugs are still up for some discounts. So don't feel nervous about asking for a lower price, you might surprise yourself.
Usually, the process starts with the tradesperson saying a price, you should then respond with your counteroffer. He will say, that he cannot go lower than the current price. Stick to your guns! Look baffled and say "no, too expensive." After a brief fiddle with a calculator, he will likely come back with a lower offer.
As we mentioned before, considering the rial has taken a hit in recent months, you can't push it too far with retailers at the moment as they are feeling the pressure. But, they will always welcome someone buying their stock. And if you pay in foreign currency the tradesperson may do you a fabulous deal!
Where to find the bazaars of Tehran?
There are two traditional bazaars operating in Tehran, one is the Tehran Grand Bazaar (Bazaar Bozorg) and the other is the smaller Tajrish bazaar at the northern edge of the city in Semiran. In addition to these two permanent markets, there is also the Parvaneh (Butterfly) Friday Market held most Fridays in a multistory parking lot just behind the Turkish Embassy — hence the name of the junction!
Each bazaar has several different specialities, the Grand Bazaar has a rabbit warren of paths which have everything for knock-off glasses, to every type of toy you could imagine for kids. The Carpet Bazaar, where all the main dealers in the city have a base is towards the Khayyam Metro Station stop if you are looking for a silk rug to take home with you.
Location here:
Tajrish Bazaar is an easier market to tackle, which culminates in several gold store bazaars as well as the main fruit and vegetable bazaar near the large mosque to the south of the complex.
Location here:
While the Friday market set over several levels of the car park is a fascinating scrum of different new and second-hand items.  You can find everything at this market from Turkmen hats and rugs to handmade pottery selling at a fraction of the price you would find in shops uptown.
Opened in 2002 by the Tehran Municipality the Friday Bazaar has become a modern must-do when in Tehran, you can find several gifts to take home with you. So why not try your haggling skills out!
Location here: